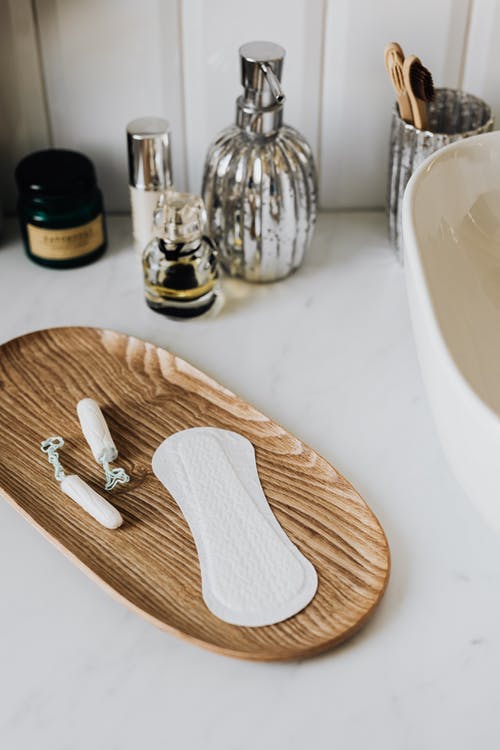 BONUS: These sustainable menstrual products may even be FSA/HSA reimbursable, but check with your insurance provider to be sure.
My name is Dr. Laura Meihofer and I am a pelvic floor specialist. Today we are going to talk about my favorite sustainable menstrual products that are good for you and the Earth! 
We've heard about sustainable menstrual products coming around the corner for what feels like a lifetime, but to finally see these products widely hitting the market is as exciting to me as a practitioner as it probably is for you as a person with a period who's tired of spending money month after month (after month after month). So, let's dive in…
(Note: When you buy something using the product links on this website, Dr. Laura Meihofer may receive a small commission– at no additional cost to you.)
REUSABLE MENSTRUAL PRODUCTS
THE ONE FOR SEX: ZIGGY CUP
If you've been searching around for sustainable menstrual products that you don't have to remove to enjoy the pleasures of being intimate with your partner, the Ziggy Cup is the one for you.
According to Intimina, '…Ziggy Cup is a period protection revolution in a nutshell. It's the first and the only reusable cup that can be worn during sex! Ziggy's flat-fit design provides up to 8 hours of comfort, freedom, and self-confidence. If you feel like it, you don't have to abstain during those days…'
THE ONE FOR A HIGH CERVIX OR HEAVY FLOW: LILY CUP
If you have been looking around for sustainable menstrual products that fit your high cervix or allows the volume of your heavy flow, the Lily Cup might be the right choice for you!
NOTE: A 'High Cervix' is measured at 55mm (2.25'') or higher. Not sure about your cervical height measurement? Use this guide from Intimina to measure!  If the cervix is lower than normal, there are other options or prolapse may be an issue.
According to Intimina, 'Thanks to its angled form that complements your anatomy, Lily Cup is the only cup that can be rolled as thin as a tampon. It's perfect for those who have a higher cervix or heavier flow while it offers complete comfort all period long. It's incredibly smooth design and slanted rim allow you to use this menstrual cup for up to 8 hours without worries."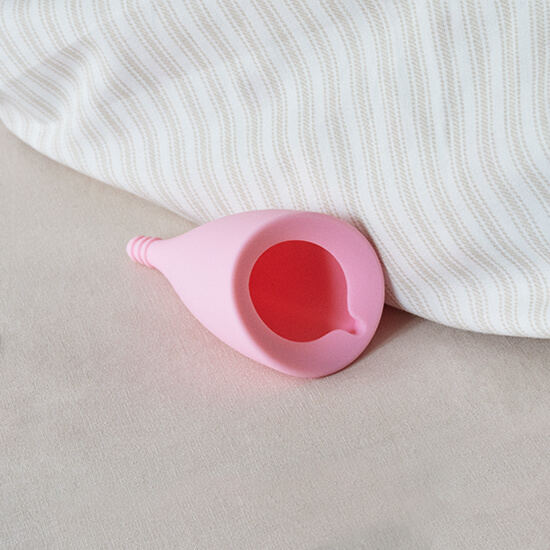 Intimina – Lily Cup
THE BEST ONE FOR TRAVEL: LILY CUP COMPACT
If you're on-the-go, it can be easier to make sure you always have your period cup by your side just in case. The Lily Cup Compact is convenient because it folds up into an accordion shape that fits perfectly inside the case it comes with. No larger than a compact mirror, you'll always be ready when your period comes.
According to Intimina, the Lily Cup Compact is the "world's first collapsible cup that folds flat and fits into a small protective case! You can toss it in your backpack, purse or pocket, and you're good to go. Then, when you need it, it can be popped open for up to 8 hours of non-stop protection."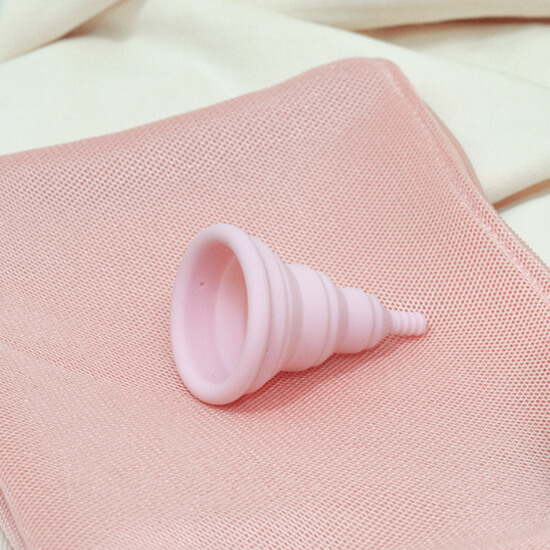 Intimina – Lily Cup Compact
THE ONE FOR BEGINNERS: LILY CUP ONE
If you're new to using sustainable menstrual products like a period cup, comfort and protection are probably at the top of your 'must-haves' list when it comes to your search. The Lily Cup ONE is super soft and many users have said that they're 'never going back' to tampons! Bonus: the loop tab on the cup makes removal even easier than your standard period cup.
According to Intimina, 'this reusable, soft and extremely comfortable menstrual cup is made of medical-grade silicone which makes it safe and secure, especially for first-time users.'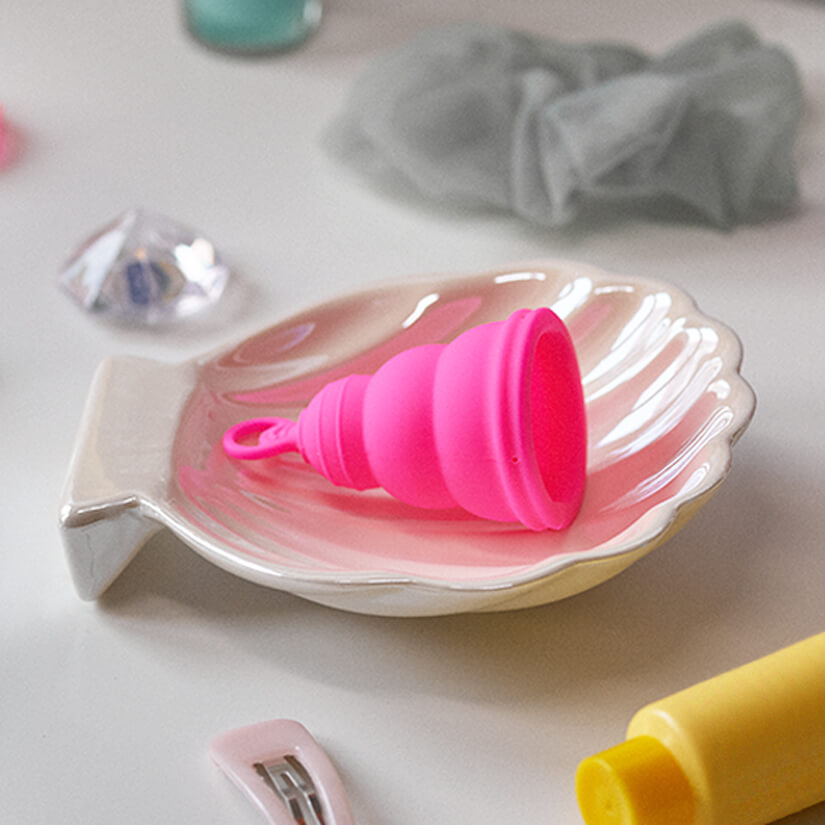 Intimina – Lily Cup One
THE BEST ORGANIC COTTON PADS & TAMPONS: LOLA ORGANIC
If you can't get on board with reusable menstrual cups and discs, but still want more Earth-friendly and body-friendly sustainble menstrual products, check out Lola Organic Cotton Period Products. Lola has been leading the charge with, 'high-quality, natural ingredients that you can trust'.
With a diverse range of organic cotton pads and tampons to other menstrual and sexual health products in their product inventory, I can't rave enough about Lola!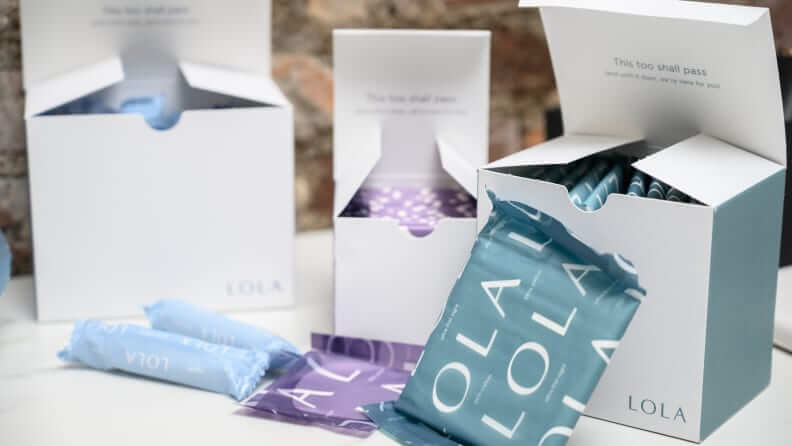 That wraps it up for my favorite sustainable menstrual products so far this year! If you're having any pain or trouble with using sustainable menstrual products like this, it may be time to see a Pelvic Floor Physical Therapist. Watching the menstruating community step into sustainability, even more, this year has been incredible and I can't wait to see what other revolutionary sustainable period products hit the market in the future!
P.S. If you have any questions about these products of your menstrual cycle or pelvic function, head over to Instagram to give me a follow and let's connect in the DMs!
Some of the links on this page may be affiliate links. Laura Meihofer's LLC is a participant in the Amazon Associates Program and others, as an affiliate advertising program designed to provide a means for sites to earn advertising fees by linking to products Laura organically uses and trusts. If you purchase a product through an affiliate link, your cost will be the same, but Laura will automatically receive a small commission. Your support is greatly appreciated and helps her spread her message!