As a pelvic floor physical therapist, many of my first visits with patients are spent discussing their confusion. Many people aren't even aware that you can actually go to physical therapy for your pelvic floor. Or their first question usually is: What is the pelvic floor?
Pelvic floor physical therapists are a specialty, and as such, not just ANY physical therapy can treat pelvic floor dysfunction. Therefore, it is soooo important that you have the tools at hand to find someone who can treat your specific condition, and that you feel comfortable to be open with. The most important step you can take is the first one, let's do it together!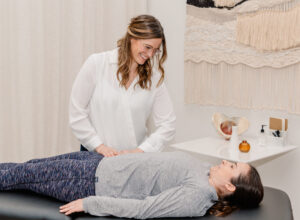 DO I NEED PELVIC FLOOR PHYSICAL THERAPY?
What kind of doctor treats pelvic floor dysfunction?
ME! I have a doctorate of physical therapy. So I am the kind of doctor (pelvic floor physical therapist) that treats pelvic floor dysfunction . It is important to note that MDs, nurse practitioners, and physician's assistants can diagnose and treat pelvic floor dysfunction as well. However, the largest concern here is: they only see you once, tell you here is what's wrong, they give you a medication or an exercise or two, and just send you on your way. A pelvic floor physical therapist will create an entire plan of care which you will execute together, monitoring your progress, and making sure you are taking the right steps towards your goals to ultimately achieve success. They can help to adjust your plan of care along the way to respond to your specific body. With me, you are never alone in your journey or hoping that you got it right from one visit.
How do you know if you need pelvic floor therapy?
You know that you need pelvic floor physical therapy if you are suffering from any of the following: urinary incontinence, fecal incontinence, exercise incontinence, chronic constipation, unexplained or chronic pain (hips, back, abdomen, pelvic region), prolapse symptoms, difficulty achieving orgasm, vaginal tightness, or any other symptoms which persist for more than 6 weeks. A pelvic floor physical therapist specializes in treating your individual pelvic floor needs, so they are able to properly assist with these symptoms.
When should I get pelvic floor therapy?
If you notice bowel, bladder, back, hip, abdominal or pelvic pain, sexual dysfunction, or prolapse symptoms approaching or lasting longer than 6 weeks, you should come in! I have definitely seen people sooner than that, and it can only help you to address any concerns you have right away. This will prevent you from accidentally causing further damage and making eventual recovery more difficult. It is always great to learn about your body, and ways in which you can support yourself to be your best self.
HOW DO I FIND A PELVIC FLOOR PHYSICAL THERAPIST?
Video Guide: How to Find the Right PT For You
RESOURCES: Click on one of the following links to use one of the sites, search by zip code, and locate a nearby pelvic floor physical therapist or provider. Someone who treats your specific condition!
In conjunction with the American Physical Therapy Association, this site is the section created specifically for pelvic floor physical therapists. 
Herman & Wallace is a continuing education company that offers pelvic floor education and training. This is great because you'll already know that they have gone through continuing education courses. However they do offer quite a lot of training, so be sure to utilize my key questions below when calling to schedule an appointment. 
This site is run by an excellent pelvic floor physical therapist, Tracy, who also does a lot of continuing education. She has begun developing a large directory of providers who work with the pelvic floor. 
Also made available by the American Physical Therapy Association, this site has a little trick to it. Once you input your zip code, you need to go and select women's health (yes even men, I know it is silly that they classify it this way!). Then you will be able to bring up pelvic floor physical therapists or providers. 
3 KEY QUESTIONS TO ASK A PELVIC FLOOR PHYSICAL THERAPIST
This video covers three important questions which I recommend you ask the physical therapists in your area during your search. This will help you to find the best ultimate fit for your journey!
Do you treat individuals with my condition? (Be specific!)
Why it's important: Take this opportunity to inventory your body and go through any concerns you have. This way you can be sure to find someone familiar with and comfortable addressing your specific concerns. Everybody is different! 
How frequently do you treat individuals with my condition?
Why it's important: I am fortunate that my patients are 100% pelvic floor concerns. Other pelvic floor physical therapists may also be seeing patients with shoulder, hip, or back concerns, and that doesn't necessarily mean they are a bad provider for you. However, you want to know with what frequency they see these concerns. Once every 6 months? Every single day? 25-50% is a great range! 
Do you perform internal and external pelvic floor muscle examinations?
Why it's important: This tells you that the provider has gone on to get continuing education on how to appropriately, and properly, assess the pelvic floor muscles. Whether the provider has to do the exam vaginally, or anally, you want to know that they know their way around those muscles. 
FROM FIRST EXAM TO IMPROVEMENT
Did all that talk of an internal exam make you queasy? Don't worry friends, I'm here to help you feel prepared. Reach for my video Guide to Your First Appointment , I've got your back!
You should start to see a change in your symptoms after 4-6 weeks. All plans are different, and treatment is a journey, but if you do not begin to at least feel a difference in this time period, please revisit things with your pelvic floor physical therapist or provider. There could be a number of reasons for this, so it is important to remain open and honest with them.
Pelvic floor concerns can feel embarrassing, overwhelming, or even invasive at times. You're NOT alone! We (providers) are aware of how sensitive this topic is to seek help in. We want you to feel comfortable enough to be open and honest so that you can get the best help. The most important part of your journey is that you feel comfortable beginning it.
Want to consult with a professional to determine if you can benefit from pelvic floor physical therapy? Book a consultation with Dr. Laura Meihofer HERE.
Or, if you would like to learn more about all things pelvic health, head over to my Instagram! I am passionate about educating and helping you on your personal health journey. Therefore, I'm always available for questions in my DM's.
MORE CONTENT YOU MAY LIKE