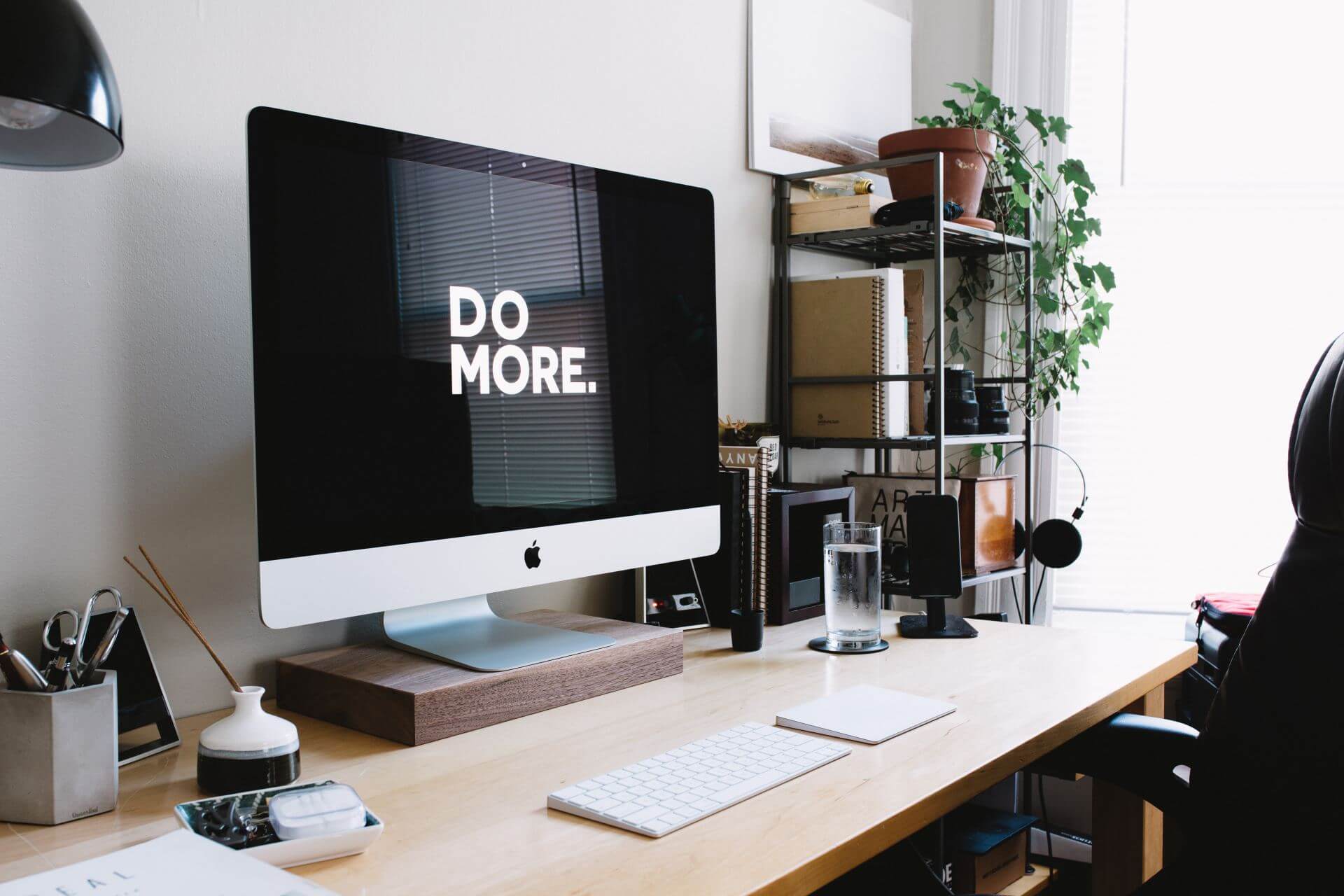 Multitudes of people find it hard to fit a comprehensive treatment plan into their busy work week. Finding something that fits into the life you live, instead of expecting to instantly change your own habits, is the easiest way to incorporate healthier choices.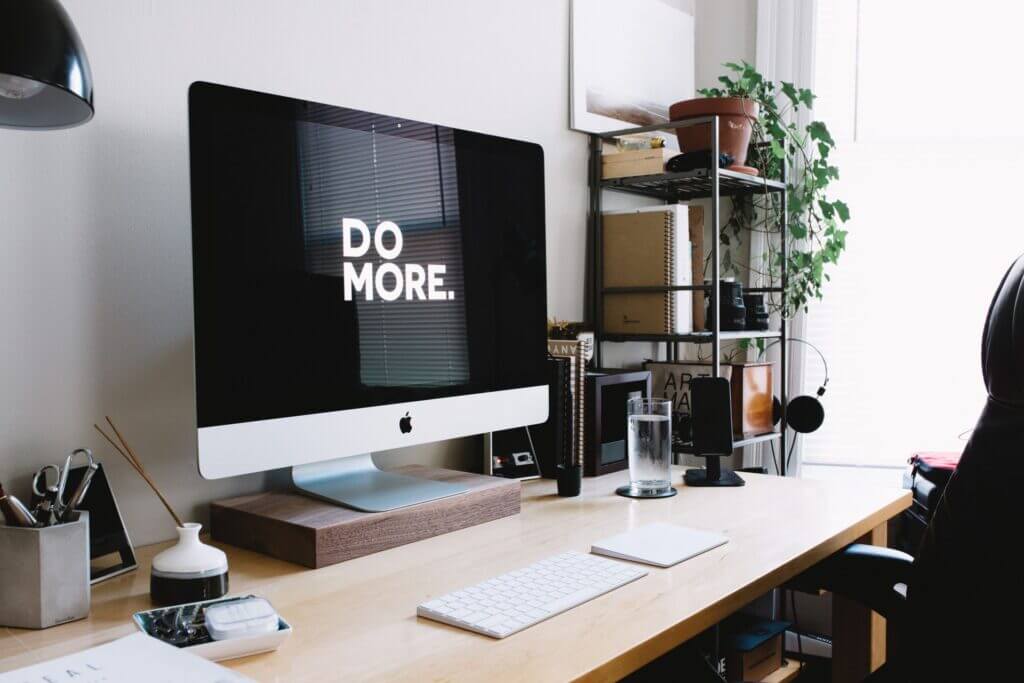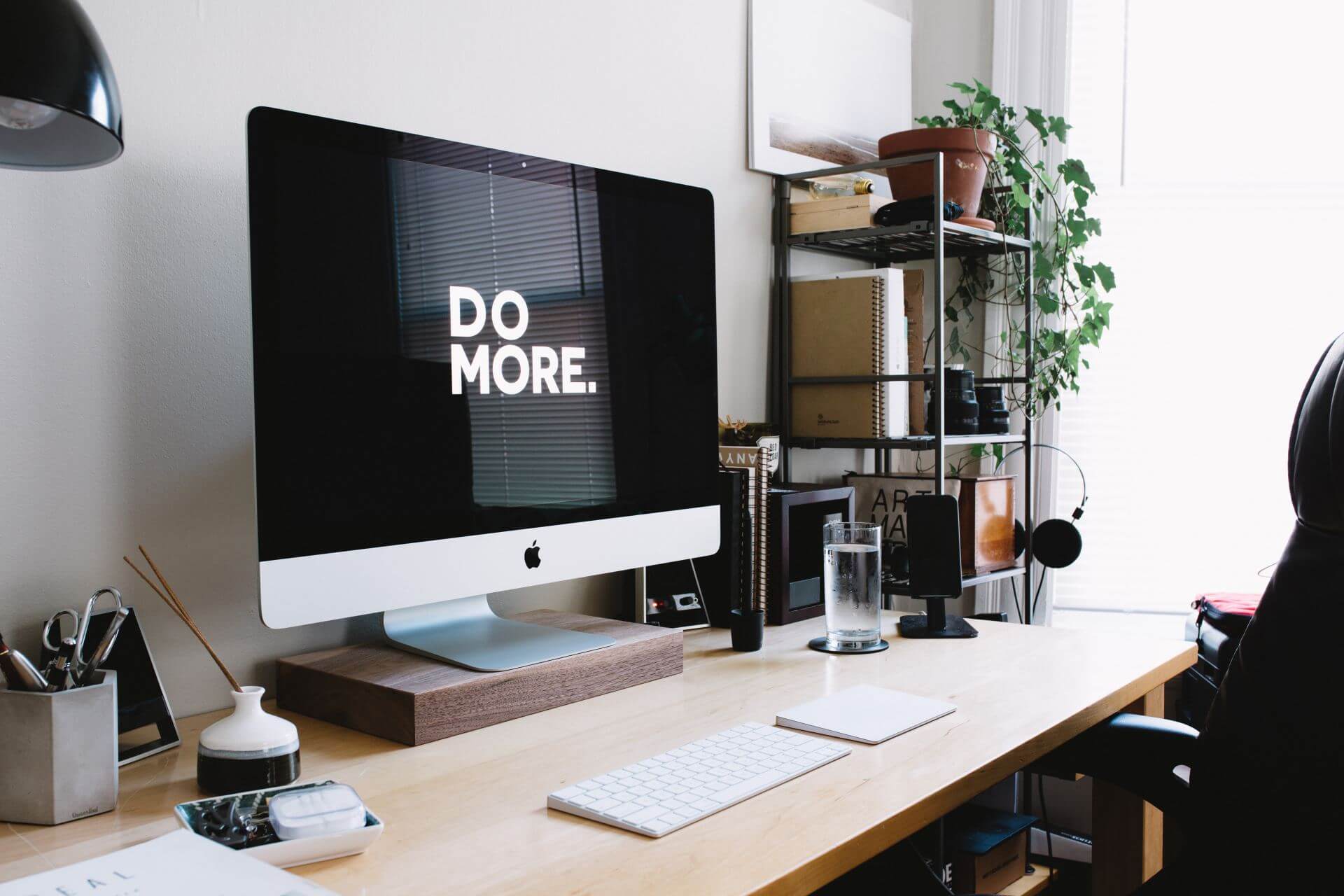 Work habits often seem to be in contrast with our idea of healthy habits. These tools fit into your busy work schedule, and help to increase exercise and mobility and easily create healthy habits in the life you already lead. Those increased endorphins can also help you feel energized to "DO MORE" at work and achieve your success, but without the added stress!
Everyone's office set-up is likely a bit different, you can utilize the recommended resources to build an office space that works best for you and your journey! Desks that keep you in motion are one of the key ways to successfully incorporate movement throughout your day. Find products I use in my own home office and other quality options below!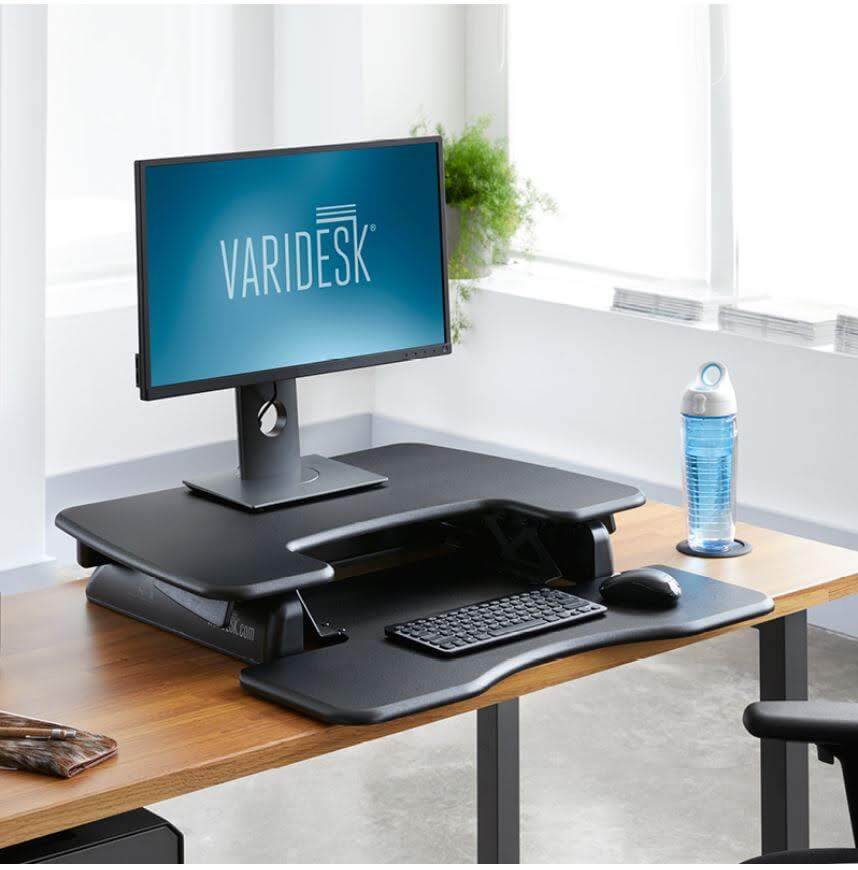 By some accounts, people who sit more than 23 hours a week raise their risk of dying of heart disease by 64 percent — even if they exercise regularly. Research has shown that sitting is more dangerous than smoking and can increase your risk of cancer, obesity and diabetes. So what's the easiest fix? Just reduce the amount of time you spend sitting! The Varidesk ProPlus 30 is a standing desk converter — for workspaces that are small, large or somewhere in between — and reduce the sitting epidemic! I have personally used the ProPlus for over 3 years, and I love that it doesn't require any holes in my furniture and has a lift/lower assist! It also has a weighted base, so there is no concern of it tipping. It arrives fully assembled and ready to use. It's truly been one of my best investments!
COST
: $295.00 + free shipping for Amazon Prime members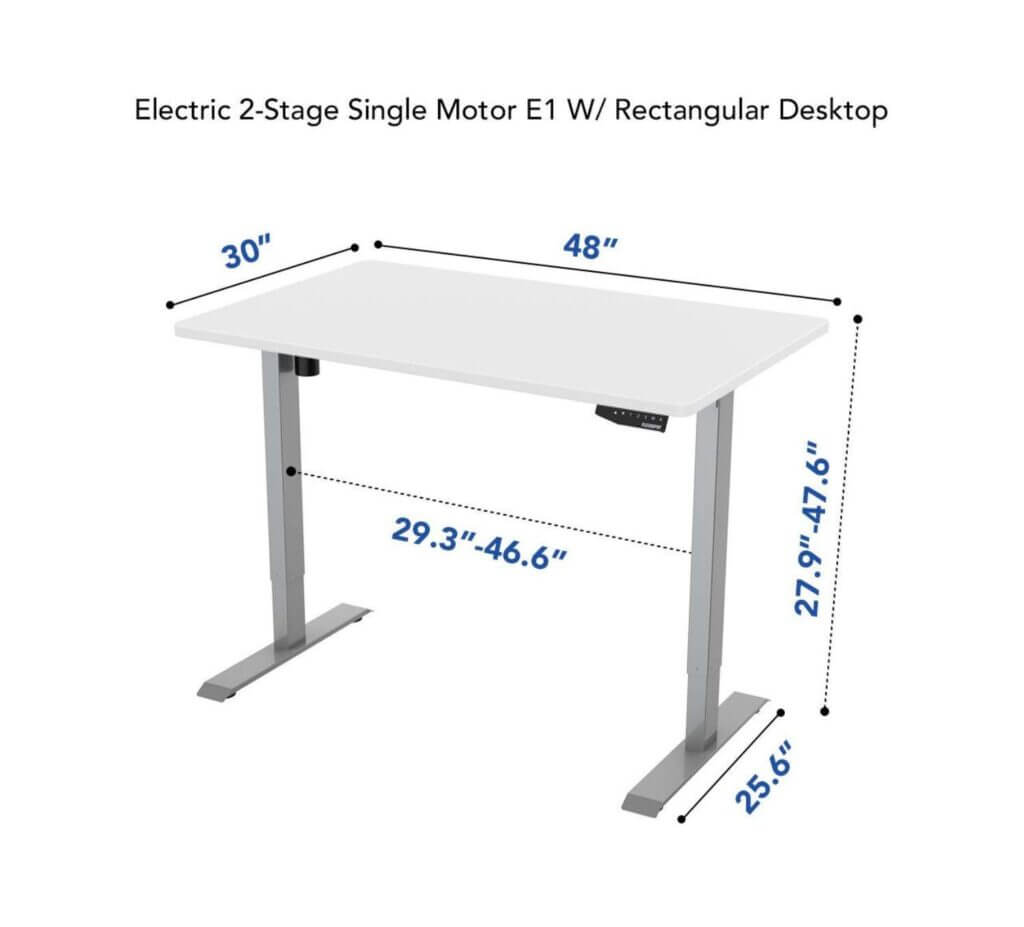 The above standing desk works to elevate your computer, but does not raise the level of your entire desktop surface. For those utilizing a treadmill desk or a balancing board (the following recommended items), you may prefer a standing desk that raises the entire desk surface out of the way of moving legs and preventing you from having to lean down constantly to reach pens, staplers, and other items on your desk. I love this Flexispot Height Adjustable Desk option from Amazon because it's adjustable via a motor! No cranking or straining on your muscles or back to lift and lower your surface, and the motor is so quiet it won't bother you one bit. The feet are wide enough to ensure there is no shake or wobble to the desk while in use. This is a budget-friendly, yet high-quality standing desk option. The legs of the base are also wide apart, without a lower center bar to get in the way of mat, balancing board, treadmill, or bike desk you intend to utilize. Combine it with one of these other products and you are in business for full time motion!
COST:
$299.99 + free shipping for Amazon Prime members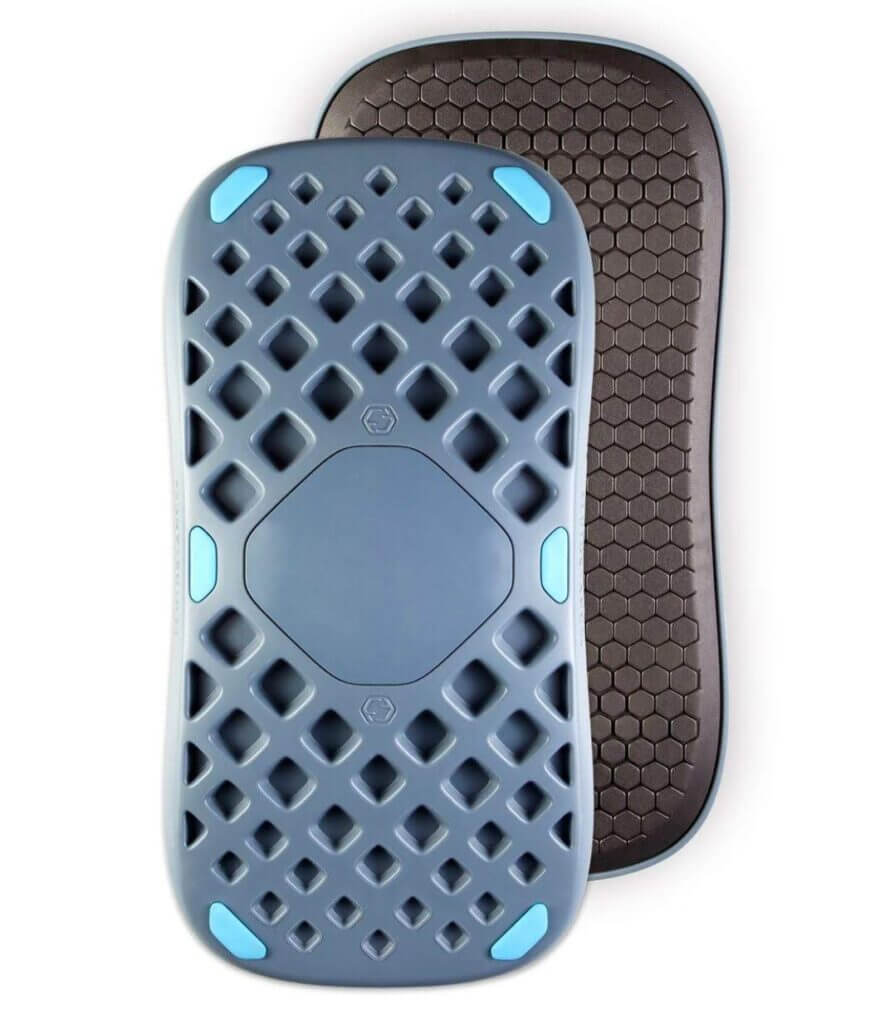 We now know that sitting all day doesn't do your health the justice it deserves. But while standing for most of the day is definitely a healthier option, it can still leave you with back and foot discomfort, which can facilitate poor posture. The Fluidstance aims to solve this problem by providing a different type of solution. The Plan Cloud Balancing Board is an omnidirectional balance board that's perfect for your standing desk and addresses these concerns with side-to-side and front-to-back tilting, allowing for a full 360 degrees of motion. These movements help to trigger increased activation in postural stabilizers, and heart rate, reduce joint stiffness, and burn more calories. The minimalist design is a great alternative to a treadmill desk. Adding a product like this to your work environment is an excellent investment in your long-term health and wellness.
COST: $144.00 (with coupon) + free shipping for Amazon Prime members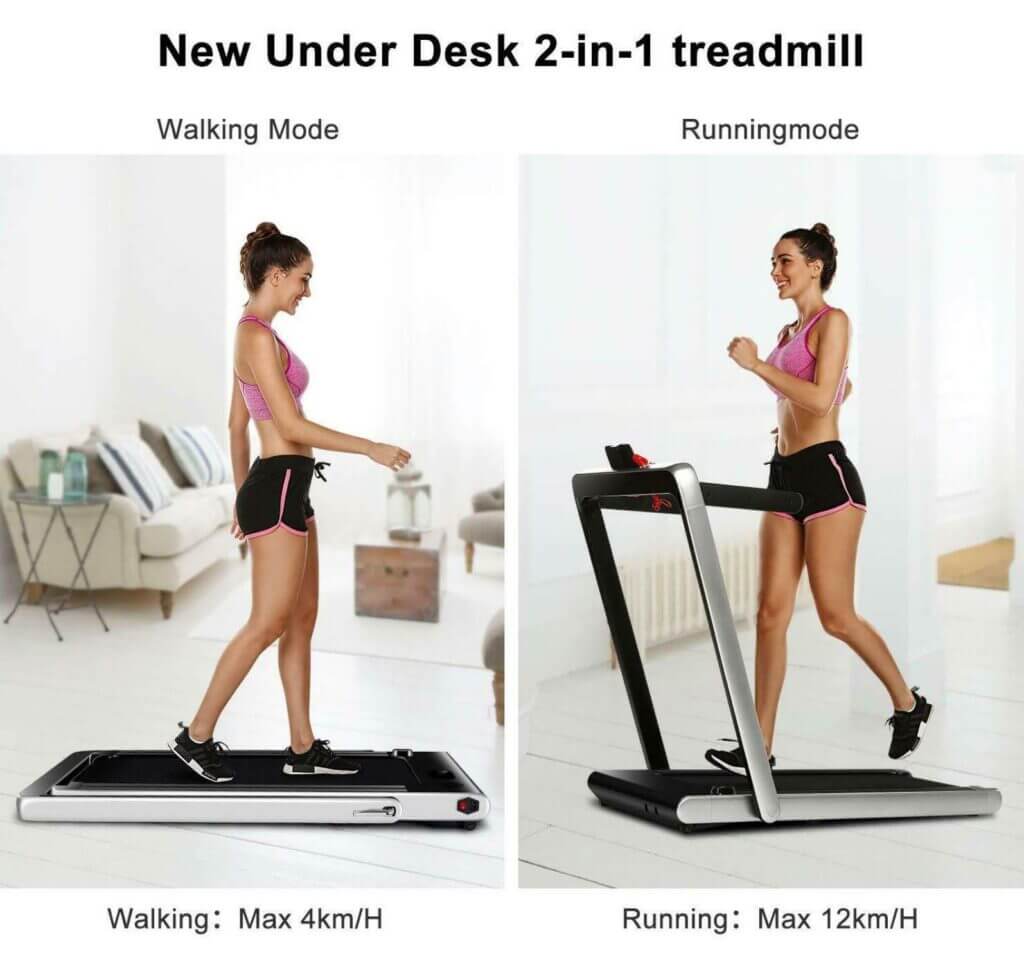 The Ancheer 2-in-1 is an under desk treadmill option that offers two modes of exercise. When the arms are raised you access a sport mode allowing for more intense workouts. This makes it the best solution for those looking for a product that really serves both daily walking and more intense workout needs. The dual purpose Ancheer 2-in-1 is made of durable steel and has wide side treads making it easy to step off of the belt. It comes with a remote control, has bluetooth capability, and the recessed phone holder slot is perfect! It runs very quiet, is super easy install, and folds up and stands to stow away easily. This is my favorite option for daily activity at my home workstation, but you can easily have it delivered to an office as well, it is so slim when it folds up. Take a nice walk anytime of day, and have more energy throughout your day in the most natural way!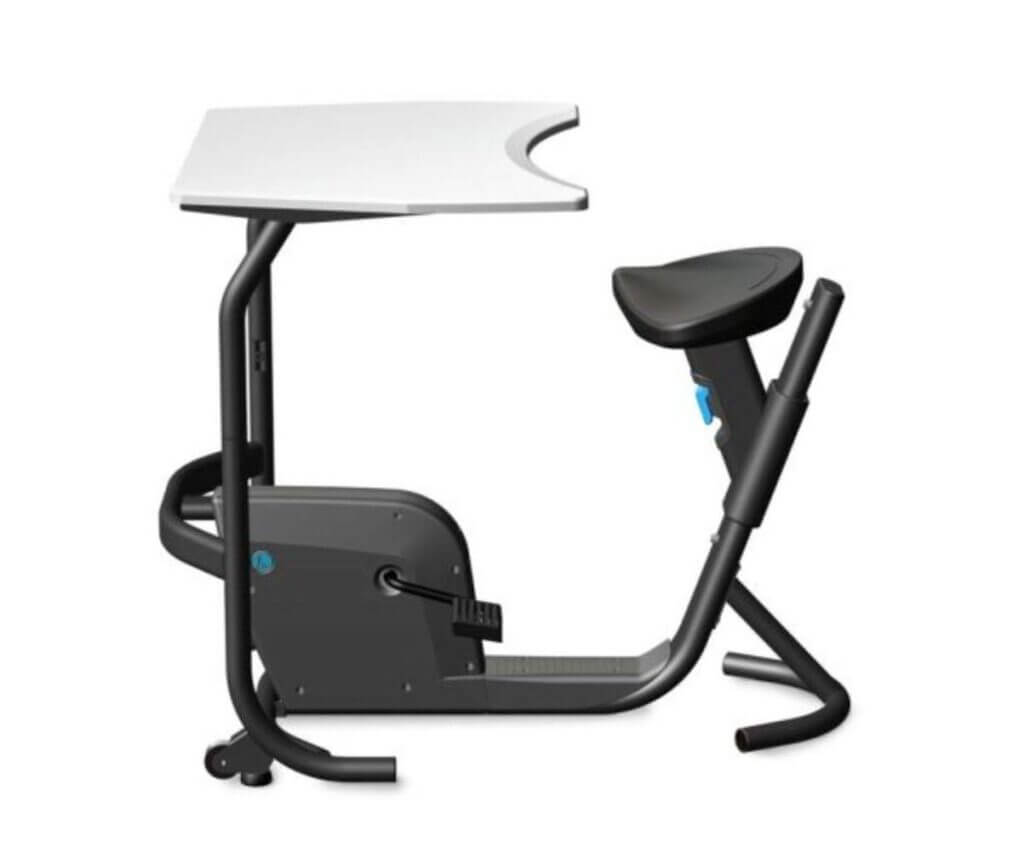 Want to achieve the same health perks as the standing and treadmill desks above, but need a low-impact option instead? The Unity Bike Desk by LifeSpan is an amazing alternative! They also offer a junior size for children! If you have difficulty walking long distances at baseline due to back, hip, knee or ankle pain but still desire to get in some movement while working, then check out the options that LifeSpan has to offer. The molded seat of the Unity Bike Desk is crafted wider for extra comfort, and the base is minimally designed making getting on and off a breeze! The pedals are also a whopping 9 feet allowing it to accommodate any size shoe comfortably. It comes with wheels for transport, and it is not powered, both make it nearly silent during operation and easy to move from one place to another. Being non-powered means the pedals do not have resistance adjustment features. It is designed with joint movement throughout the day in mind, rather than a heavy workout. The bike and desktop are attached, to ensure you remain in proper posture throughout the day. Let the Unity Bike Desk bring your daily life some unity of mind and spirit!
DISCLOSURE: Hi there! – I truly hope you love any product I recommend, I always try them out personally or with my patients. At times, I use affiliate links. You do not pay more, a small percentage of the sale goes to the person who has influenced your purchase. This helps me to continue offering free content. Let me know your experience! All pricing is up to date at the time of posting.